Probate Court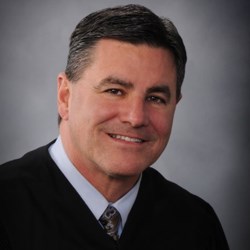 Judge
Judge Patrick J. McGraw was born and raised in Saginaw, Michigan. The Honorable Patrick J. McGraw graduated from the former Sts. Peter & Paul High School in 1974 and from Central Michigan University in 1979. From there he attended Thomas M. Cooley Law School graduating in 1981.
Judge McGraw returned to the Saginaw area and began in private practice with his father John W. McGraw, a retired attorney, practicing as a trial lawyer for 19 years, specializing in medical malpractice, insurance defense, personal injury and other matters that involved trial practice. Judge McGraw continued in private practice until appointed to the Probate Court bench by Gov. John M. Engler, on December 6, 1999. Judge McGraw has served on many committees in the community and in the judiciary. Judge McGraw currently serves as Senior Judge of the Saginaw County Probate Court, and Judge of the 10th Judicial Circuit Court.
Brief History Overview
In 1818, a Court of Probate was established in each county, the members of which were appointed by the Governor and from which appeals might be taken to the Supreme Court. These courts continued in operation until Michigan became a state.
The Constitution of 1963 Article 6, Section 15, indicates that each county organized for a judicial purpose shall have a Probate Court. The legislature is also empowered to provide for the combination of the office of Probate Judge with any judicial office of limited jurisdiction within a county. The judges of Probate are elected in a non-partisan election in the county of the districts in which they reside and hold offices for a term of 6 years.
The Constitution of 1963 provides that "the jurisdiction, powers and duties of the Probate Court and of the judges thereof shall be provided by law. They shall have original jurisdiction in all cases of juvenile delinquents independence, except as otherwise provided by law. Currently the law has changed and provides that the Probate Court has jurisdiction over the administration of decedent's estates, and of trusts, over guardianships and conservatorships, and over the involuntary commitment of mentally ill persons. As of the January 1, 1998 creation of the Family Division of the Circuit Court, many now former Probate Court matters, such as juvenile delinquency, neglect/abuse, and adoption proceedings have been transferred to the jurisdiction of the Family Division of the Circuit Courts.
As of April 2012, Saginaw County signed on to the Concurrent Jurisdiction Plan recommended by SCAO. This plan can be accessed by clicking on the link. Basically the plan allows every judge in Saginaw County to handle any type of matter that may come before a judge. This is meant to expedite matters for the public and the courts and to remove barriers from judges in handling other matters. 
As an example, Judge McGraw handles a full 10th Judicial Circuit Court Civil Case Docket. He also, besides being responsible for the full Probate Court Docket, handles all PPO's, Name Changes and runs a Specialty Court "Swift:Sure". This is a court to intensely supervise felons and give them a second chance to avoid prison.